Here, you will find a compilation of the UVA Humanitarian Collaborative's major projects that have been completed and are no longer active. 
IRC NEW ROOTS PHOTOVOICE EXHIBITION
The New Roots PhotoVoice Exhibition is the culmination of a collaborative research project between the International Rescue Committee and its participant "co-researchers" in the New Roots program. Through their own photographs, refugee and immigrant farmers explored the question "How has New Roots affected my life?" Co-researchers then collaboratively synthesized hundreds of images into the most important and valuable themes and their associated stories. A final exhibit of the artwork and captions will be shared with the public and community stakeholders. The goal is to provide the IRC New Roots program with insight into their work through a participatory and community driven process using the universal language of photographs.
What is PhotoVoice? Photovoice is a participatory action research (PAR) method that involves individuals taking photographic images and participating in group dialogue as a means to deepen their understanding of a community project, issue or concern. The visual images and accompanying stories are the tools used to reach policy- and decision-makers. It was first pioneered in community-based participatory research with marginalized populations in the mid-90s by Caroline Wang and Mary Ann Burris. In contrast to "photo elicitation," an approach where interviewers use photos as symbolic reference points to guide discussion, Photovoice puts cameras in the hands of people, who take photographs of their lives to capture both positive and negative aspects of their lives and experiences. These images combine with narratives to share points of view which are often hidden or underrepresented. Participants become "co-researchers" whose images build the context and set the focal point for discussion. These photo-narratives then can be used to reach decision makers – themselves, family, friends, neighbors, peers, teachers, community leaders, elected officials, or foundations – via community project sessions, websites, public exhibits, etc.
What is the IRC New Roots Program? Founded in 1933 at the request of Albert Einstein, the International Rescue Committee responds to the world's worst humanitarian crises and helps people whose lives and livelihoods are shattered by conflict and disaster to survive, recover, and gain control of their future. The IRC in Charlottesville has welcomed almost 4,000 individuals into the community since opening its doors in 1998, resettling an average of 250 clients each year. As the only agency providing resettlement and ongoing professional services to support successful integration in the area, the IRC offers essential services to refugees, asylees and other eligible immigrant groups, including case management, employment assistance, medical case management, family support services, health and wellness programs, and immigration services. One important IRC program is New Roots, which works with New Americans in support of their health, community connection and household economics through food and agriculture. Last year New Roots served more than 200 people through its programs; Community Gardens (home gardening), Micro Producer Program (farming for market), Nutrition Orientation, Michie Market and Fresh Fund (New Roots neighborhood farm stand and produce incentives), social support groups, and Charlottesville Food Justice Network.
HUMANITARIAN LITERATURE AND ETHICS
While the United Nations and Save the Children and other humanitarian entities already use visual media – photography exhibitions, photojournalism in media outlets, photo stories and film, as well as some recent experiments with Virtual Reality (SCF) – as key aesthetic resources in advocacy and in building support among public audiences for government aid policy, the uses of literature for humanitarian advocacy remain under-explored. At the same time, the recent refugee crisis is generating a body of substantial literary material beyond the journalistic: chiefly essays, fiction and literary non-fiction. Through a New College course titled "Does Reading Literature Make You More Ethical? Really?" students will explore the possible uses of literature for humanitarian advocacy.
(W)HERE TO STAY?!
Inspired and jointly supported by the Humanitarian Collaborative and the Peace Appeal Foundation, (W)HERE TO STAY?! is a collaborative exploration of the importance of place, belonging and community in Charlottesville.
If you were forced to leave your home, where would you go, what would you do? How would you find a place to stay? How would you know if here is a place you can stay permanently? What would contribute to your sense of belonging? (W)HERE TO STAY?! is a series of events and exhibitions designed to generate conversation, reflection and creative expression responding to issues of displacement and belonging as they pertain to the city of Charlottesville.
EXHIBITION and EVENTS: Acclaimed Swedish photographer Magnus Wennman's affecting series Where the Children Sleep documents the journey of refugee children displaced by war in Syria. Through talks and creative workshops designed in response to the Wennman's images and the questions about displacement and belonging that his images raise, the organizers of (W)HERE TO STAY?! hope to provide space for discussion and reflection about the many ways in which displacement is (or isn't) visible in our community.
Our season of exhibitions and events begins with bringing Wennman's Where the Children Sleep to Charlottesville in the Fall of 2018. Our aim is to have the exhibit on display in clusters of one to three images across multiple locations in the city, such as civic spaces, local religious institutions, commercial settings and on the university grounds. In taking the unorthodox approach of dispersing the collection of photos to different locations throughout the city, we hope to increase the odds of a chance encounter between these powerful images and residents of Charlottesville. In cooperation with local partners who will host these images, we will organize activities for both children and adults that explore some aspect of the themes and questions raised, from reflective writing to drawing to educational presentations.
CELEBRATION OF COMMUNITY CONVERSATION AND CREATIVITY: After the initial partitioned exhibition, we plan to bring the entire exhibition together in one place. Our hope is that the exhibit will be united at the Jefferson School African American Heritage Center which memorializes a local legacy of resisting displacement while also serving as an incubator for a vision of Charlottesville as a vitally inclusive community. Residents who participated in isolated events or smaller conversations will be invited to see the exhibition as a whole, alongside a celebration of some of their own artwork and writing.
"EMERGENCY," "CRISIS," OR "DISASTER?"
Emergency claims—claims that particular situations are emergencies—can be immensely powerful. In humanitarian contexts, emergency claims are used to defend the use of violent force (e.g. "humanitarian" military intervention), direct attention and resources to particular situations, and justify violating normal rules and procedures (or shifting to a different set of rules and procedures). Emergency claims only have these effects, however, if they succeed—that is, if they are accepted by relevant audiences. What makes emergency claims succeed in humanitarian contexts?
Sometimes images, especially photographs and videos, play a dominant role. In other cases, narrative testimony by survivors, aid workers, and journalists is key. In yet other cases, formal technical criteria and standards are decisive. These elements of emergency claim-making often function together, of course: sometimes images motivate ordinary people elsewhere to view a situation as an emergency, and those people then demand an investigation which generates narratives testimony. These different media of emergency claim-making are also more and less persuasive to different audiences. The aim of this research project is to investigate the role of technical standards and criteria for what counts as an emergency in emergency claim-making. The output of this research might help practitioners and researchers alike better understand the broader context of emergency claim-making in which images play a role.
"ISSUE H" - SOCIAL MEDIA AND HUMANITARIAN AID
Issue H will investigate how humanitarian aid organizations can improve the ways in which one can use social media to raise awareness and creative engagement with humanitarian issues. Different groups and individuals will take over the Instagram account and experiment with combining new forms of imagery and their cause. Ultimately IssueH seeks to offer new insights on how our partners can better use their social media to increase audience engagement.
AI WEIWEI'S HUMAN FLOW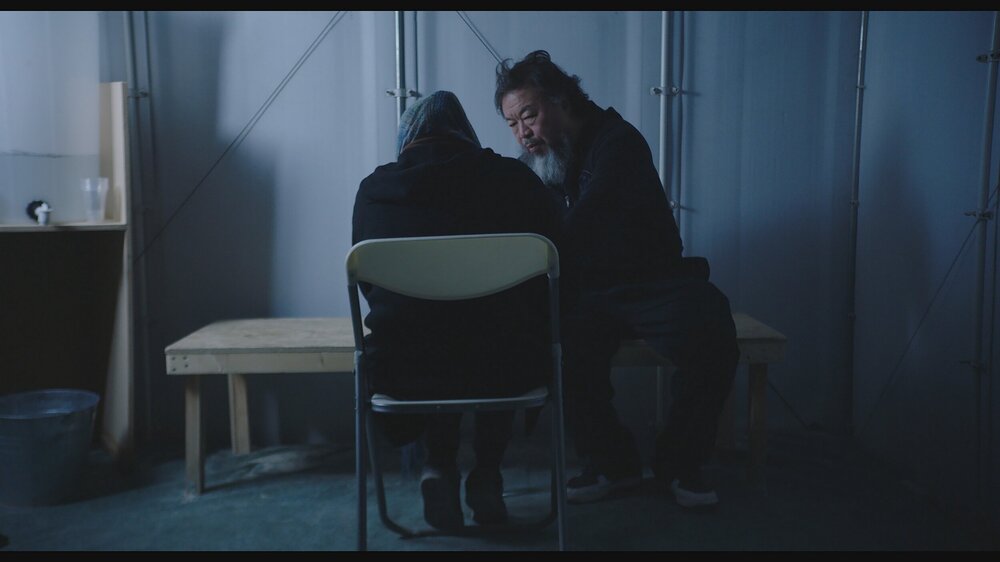 Ai Weiwei is one of the most prominent visual artists of the 21st century. As a Chinese dissident and political artist, he often brings attention in his work to human rights atrocities and violations of freedom of speech and expression around the world. In his first documentary feature film, Human Flow (2017), Ai Weiwei traveled to 23 countries over the course of two years to elucidate the staggering scale of the global refugee crisis and its profoundly personal human impact. The film offers a glimpse into the reality of this urgent global crisis.
This project will bring a free and open to the public screening of Human Flow including a talk comprised of specialists in the field to discuss the issues that the film brings to light surrounding the refugee crisis for the benefit of UVA and the wider Charlottesville community.
"A VENEZUELAN JOURNEY: THE SEARCH FOR A NEW HOME" EXHIBITION BY TBLA UVA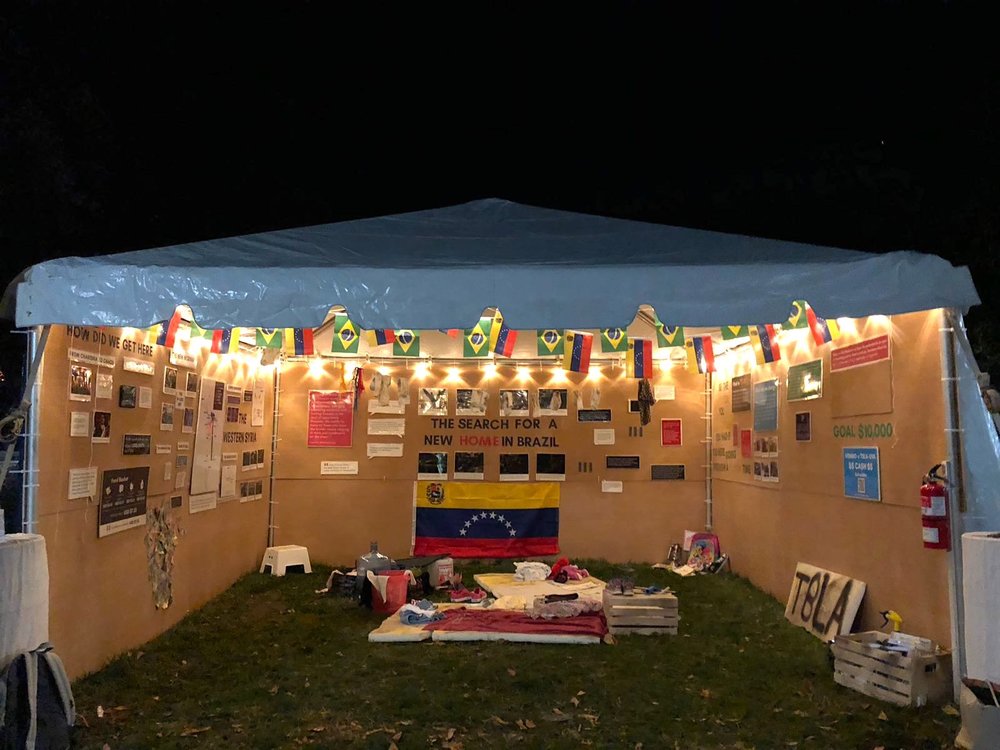 Towards a Better Latin America, a student-organization at the University of Virginia, is working together with the UNHCR in Brazil to raise funds to buy five shelter homes for the UNHCR camps that are giving shelter to the Venezuelan migrants and refugees in the state of Roraima, Brazil. The homes are designed by the IKEA Foundation and the UNHCR, and are created by the Better Shelter organization. TBLA will buy five of these homes, each priced at $2,000, and send them to the UN camps in Brazil. 

As part of this project, we are hosting an exhibition at the University where we're recreating the living space of Venezuelans currently living in the streets of Brazil. The exhibit also tells the story of what is happening in Venezuela, the current migration crisis affecting Latin America, as well as what TBLA and the UNHCR are doing to help.
DIS/PLACEMENT: UNCERTAIN JOURNEYS
DISPLACEMENT: Uncertain Journeys is a multi-year collaborative art project that cultivates artistic responses to disaster displacement. It supports the state-led Platform on Disaster Displacement through exhibitions that provide policymakers an opportunity to reflect upon and understand disaster displacement from a visual, experiential and emotional perspective. DISPLACEMENT hopes to create engaging spaces that inspire ideas that might not otherwise emerge around a conference table, and which keep the human story at the center of policy discussions. It also seeks to collaborate with artists from the most disaster-displacement-affected regions to share their work in policy discussions. For the 11th Global Forum on Migration and Development Summit taking place in Marrakesh, Morocco as part of Migration Week, DISPLACEMENT presents an exhibition of contemporary art pieces from around the world to highlight challenges and solutions related to disaster displacement.